COVID has hit everyone, including Film Shoots around the world. In India, even the restart of business has been wobbly at best. Despite following all protocols of lean crews, restrictions and safety precautions by the government, things have been difficult, to say the least. But we do see rays of hope. Read on…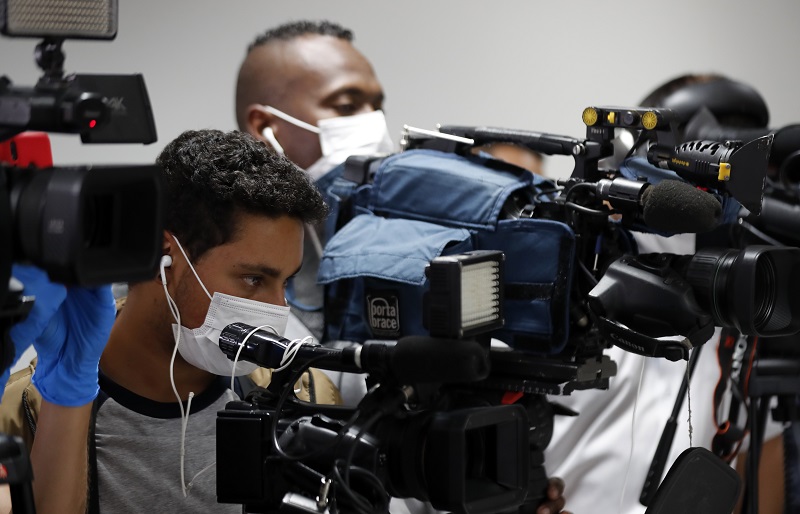 Credit - EPA-EFE/Mauricio Duenas Castaneda
Karnataka was one of the first states to allow the restart of Film Shoots post Covid lockdown relaxation in India. As Line Producers/Location Providers for these film shoots based in Bangalore, we have had a head-start in failing early and getting up faster to help Production & Media Agencies plan and execute their shoots as smooth as Covidly possible, not just in Karnataka but other states too, as they open up.
Here are some casualties, close shaves and some successes for us as Line Producers/ Location Providers ever since Shoots resumed. It all began in March 2020…
Lockdown Begins - For a Netflix webseries and an international movie, a month-long exercise of location hunting and recces went down the drain in March, along with all other plum projects in the pipeline for the rest of the year.
Resuming Shoots but Non-committal Police and Lack of a Government Circular – When we restarted shoots in late May, location owners wanted us to take police permission first. However, the police refused to give us permission even for indoors shoots citing that a Government order did not reach them. They rejected Film Association Letters of approval or a newspaper go-ahead article. The film team spent a week caught in red-tape between government offices. No sign of that Government order. The Police finally said we could go ahead with indoors shoots but at our own risk. Nothing on paper though.
Tough Resident Welfare Associations - Our Zee TV serial shoot in Bangalore had to cancel 3 times before we convinced the Residents Welfare Association that our film team was not there to infect the gated community with Corona. The Police were non-committal as usual. After multiple meetings with the RWA and various calls, it was thankfully sorted out and the shoot is going on peacefully - Ray of Hope!
Angry Neighbours and a COVID+ Case - A two-pronged problem for a Goibibo shoot in Delhi. Homeowners were fine but their neighbours were ready to shoot us down if we even mentioned a Film Shoot on their streets. We decided to stretch our production logistics and go to faraway farmhouses, but everywhere we were considered the vermin. Even when we explain that we were not suicide bombers and equally value our own safety, clearly they didn't see logic! We finally got a friendly location! The Director made changes in the script according to the location. But suddenly the DoP went missing as his apartment building sealed down due to a COVID+ case. We had to rustle up a new DoP within a few hours.
The shoot went ahead gingerly, with everyone crossing their fingers. Ray of Hope!
Locations in Containment Zones - An ICICI digital Ad shoot in Bangalore was painstakingly planned after many recces. On the day before the shoot, we realised that the house location was in a containment zone in some Municipal circular none of us had seen. Similarly, we readied an efficient Remote Production team for an Amazon shoot in a Gurgaon office. But the shoot halted in its tracks since the office was discovered to be in a containment zone. Casualty!
Ban in Tourist/Public Locations - A shoot for a Yoga brand needed Hampi which obviously couldn't be arranged. So we planned to shoot at a Hampi-like location at Nandi Hills instead. On the very day that we planned to recce Nandi Hills, the hill station was banned for visitors. Budgets hit in too. So a dejected team decided to shoot in their own office wringing the script out of all its juice. And finally the day before the shoot, the office area was sealed! Casualty!
City Borders Sealed - Chennai knocks with a Shortfilm wanting a location, but the Director is in Chidambaram and can't enter Chennai. We also heard that a Chennai-based TV Serial was gunning for the same location. So yeah, this Shortfilm slips out of the hand. Casualty!
Dynamic Quarantine Rules - Shoot for an immensely popular webseries went through at least 5 postponements of dates, in trying to get an actress to fly in from Mumbai to Bangalore. An unbreakable chain, so to say:

If she enters Bangalore, the actress has to be in a 14-day quarantine

If she has to skip the 14-day quarantine, she needs to come in only for 48 hours AND she needs a CoVid negative certificate from an ICMR-certified lab

To get the certificate from the lab, a qualified Doctor has to prescribe the need for the test.

Getting a prescription from the overworked doctors is a project in itself.

The entire protocol of a person to travel interstate was complicated and being changed on the ground every few days.

All the while keeping an entire film production waiting here with its own moving parts.
Finally, the shoot had to be carried on without the actress. So...Ray of Hope!
9. Inter-state vs Intra-state Travel - A corporate shoot at an industrial centre in Anantapur, Telangana is a whole different saga altogether. We have gotten our teams ready. But should we send our team from Bangalore or Hyderabad to Anantapur? Due to availability of some rare equipment, the Bangalore team scored higher. Even while we were making this decision and weighing the pros and cons, Telangana went under lockdown. But just as Telengana will open up, Bangalore will close. So let's see how this one plays out.
So it's been virtually a Dance among Corona Landmines. Multiple casualties of a cancelled shoot are the scores of people employed per shoot, the days of effort and time wasted towards planning these shoots.
Now as bleak as the situation looks right now, this crisis does teach us all for the better. And the filming industry too is adapting and improving, may we say:
More detailed planning of a shoot - especially being aware of what areas or locations are not under the COVID shadow (containment zones, etc.)
Production agencies actually caring about the crew on ground by providing protection gear like masks, gloves, face shields, thermometers and sanitizers and enforcing hygiene and social distancing norms thus ensuring their overall wellbeing.
Production agencies ensuring that the shoot wraps up in time, avoiding overworking the crew, as was the accepted norm everywhere.
Production crew sizes are being kept to the bare minimum required. People are finding innovative ways - maybe via script changes or location changes.
Collaborative Remote Production - where some of the team are co-ordinating shoots remotely (e.g. Directors directing over a video call), and the others are executing the shoot on location. The world of Remote Production is already coming into the fore, with some amazing technological achievements.
Studios and studio sets are upgrading and adapting to the new world. We see a million opportunities here as well.
This new world order might also give a much-needed push to VR and AR solutions, which haven't really taken off yet.
Unless we are hit by something worse or the COVID fatality rate zaps up, we are kicked up about the opportunities this crisis presents to all of us to better our tools and our spirit.
We are hopeful about safer and better working conditions for everyone, leaner production crew sizes and the potential newer technology solutions to make film productions safer and more efficient.