DUBAI - A college dropout from a farming family, who went to Oman with Rs. 50 in his pocket, now heads a $1.23 Billion Empire! Popularly known in India as the Founder of Sobha Properties. A Billionaire for sure, and a Zillionaire at Heart!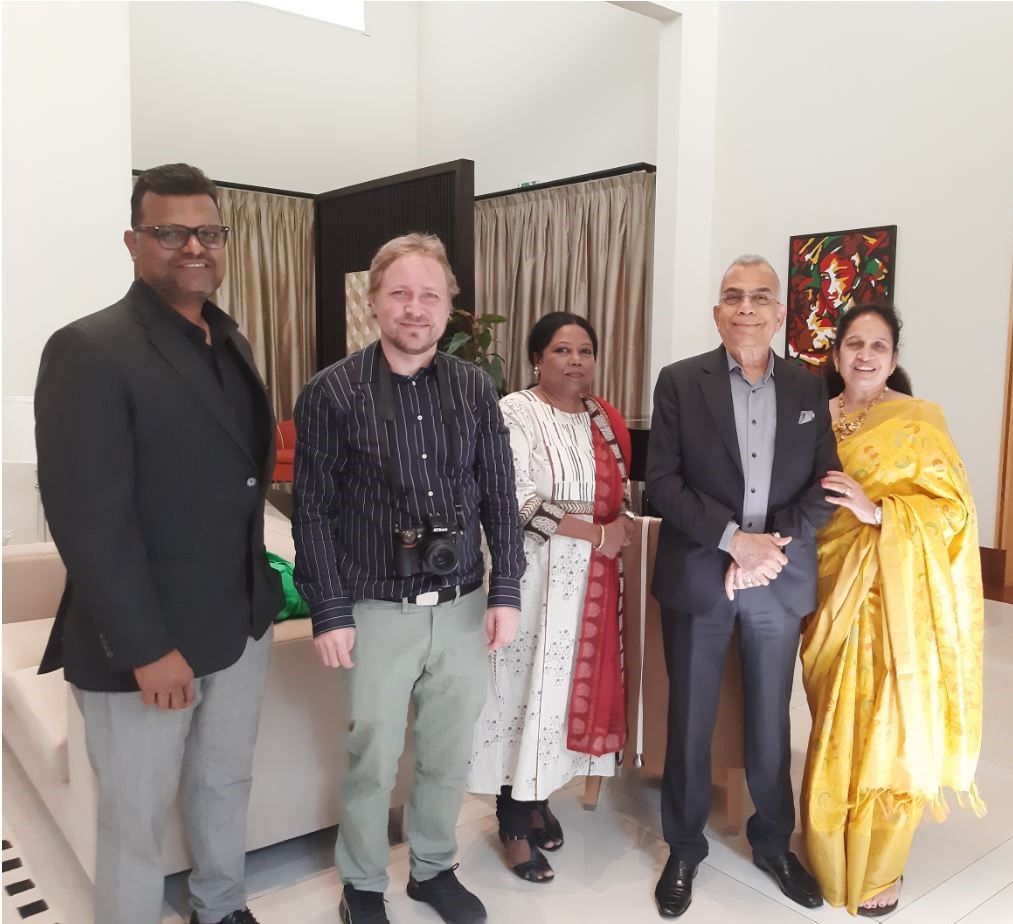 Our Interaction with Mr. PNC Menon
We, at Filmapia, had the priceless experience of spending an entire afternoon with the refined and respectable PNC Menon and his family in his magnificent mansion at Emirates Hills in Dubai.
As part of our project, for a quick interview with him we were given a tight 1 hour slot. An unrelated adventure got us late to reach his home. But he was more than considerate to make time and insisted that we join him for lunch. We were overwhelmed to see his entire family (from his aged mother to his grandchildren) waiting for us at the lunch table.
During the sumptuous lunch that followed, he asked about our backgrounds, our idea behind Filmapia, our successes, our challenges, and our ultimate Vision. He wanted to know about our families, our thoughts. He lauded our idea of Filmapia and wished us success in the future.
His family was just as warm too. From his wife, Mrs. Sobha, an elegant and gracious woman to his daughters, son-in-law, grandkids, all of them echo the same genteel warmth and hospitality. Mrs. Sobha insisted on giving us so many souvenirs and sweets to take back home to our families.
Mr. Menon spoke excitedly about his new project District One (more about this later in the article) in Dubai and also arranged a tour for us to see the entire place, where we met several of his employees. Each employee we met spoke so highly of Mr. Menon - they were proud to work for a man of his stature.
We have met quite a few millionaires and billionaires as part of this project. And Mr. Menon stands tall among them - his achievements aside, his humility and earthiness impressed us the most.
His Entrepreneurial Journey
His is the story of an entrepreneur who came to Oman with 7 dirhams and is now a Billionaire with innumerable accolades and business empires across the world.
Some links to his success story:
https://gulfnews.com/business/property/a-rags-to-riches-developers-story-with-a-difference-1.911006
https://www.livemint.com/Leisure/B5hGrQLjVwGaNIBh4zClKO/A-career-built-brick-by-brick.html
https://www.arabianbusiness.com/interview-sobha-s-pnc-menon-524901.html
A few Key Factors that we as entrepreneurs would give a standing ovation for:
Coming from an agricultural family in Kerala and losing his father at an early age, he had to shoulder his family responsibilities. Hence he couldn't complete college.

A chance encounter with an Omani in Kerala, he decided to go to Oman with Rs. 50 to build a livelihood there. All at the age of 19!

Both of them started with a small loan from a local bank and did small tinkering and interiors jobs in homes and offices.

"It was tough initially, but I worked hard, really hard.

Five things were against me:
I was not professionally qualified.

I did not have sufficient capital.

I was in a new geographical location.

I didn't have sufficient contacts.

And my communication skills were poor as I had studied in a Malayalam medium school"
But he was confident and with his work, he was UNCOMPROMISING ON QUALITY!
Slowly he got bigger projects which he serviced with the same eye for quality. Soon the Sultan of Brunei wanted him to design his Palace! His work was of such high quality that he was called to build several high profile palaces, homes, offices, commercial buildings, etc. His business extended to several countries and he became popular in the European markets too.

He launched Sobha Developers - a real estate company in India that has been awarded as the top-rated brand in real estate sector pan-India for the past 4 consecutive years. Sobha has its footprint in 26 cities and 13 states across India. Besides his innumerable real-estate projects in India, he is also known for building the Infosys Campuses in Bangalore and Mysore that was entrusted to him by Dr. Narayana Murthy.

His charitable works are known far and wide. From providing several hospitals and facilities in Kerala to donating his weight in gold to Guruvayoor Temple, to giving 50% of his earnings to Melinda Gates Foundation, Mr. Menon is truly a philanthropist of the highest order.
His pinnacle of achievement which is slowly unfolding is District One - a 12 million sq.ft, $5.7bn mammoth project by the Dubai ruler, Sheikh Mohammed Bin Rashid Al Maktoum which will include the world's biggest shopping mall, more than 100 hotels, a Universal Studios franchise and a public park larger than London's Hyde Park. It will also feature 1,500 luxury villas, seven kilometers of manmade lagoons and beaches, as well as retail, leisure and sports amenities....all in the HEART OF DUBAI.
In his own words:
"It was not easy building an enterprise; it was very, very difficult. It was like building it brick by brick, step by step. I was learning on the job with each passing day. Each step, you perfect it and go on to the next level"
"I always compete with myself. because there is always a gap in what you have achieved and what you plan to achieve"
A man who lives up to such high standards that he creates for himself. No wonder he is a friend of rich and powerful men across the world.
A true Legend - P.N.C. Menon!